Supreme
The Supreme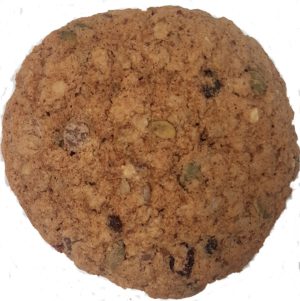 The Supreme is the trailblazer for Stacy's Cookies. It was the first protein cookie to be developed and still maintains it's place as the original hunger crushing snack.
The Supreme is a protein rich, energy boosting cookie that's reminiscent of the yummy soft and chewy oatmeal cookies Mom used to make. The ingredients are familiar, easy to pronounce and many of us have them at home right now.
It contains fast and slow digesting proteins that will energize now and keep you feeling satisfied for hours. It can be used as a meal replacement to get you through as well.
It's soft, chewy, decadent and packed full of a wide variety of ingredients that all work together to create a unique flavour and texture.
They taste great on a hot day too, right out of the freezer! Just let them warm up for about 5 minutes. It's a whole new experience!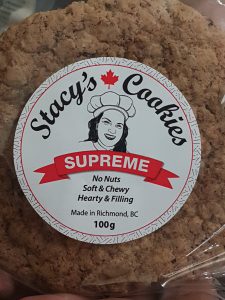 When's the time for a Supreme? Anytime!
It's perfect for busy afternoons
Fills the gap from a missed lunch break
It's an after school snack, at any age
It's delicious for breakfast too
Enjoy one with your smoothie in the morning or
Blend one right into your smoothie for an energizing breakfast treat
Enjoy a Supreme before the game, it won't make you too full
Take them in your backpack on a hike, a bike ride or even a long drive

Who is the Supreme for? Everyone!
It's great for hikers, bikers, campers and swimmers
It's for busy parents, seniors and teens too
It's also perfect for those needing a little boost of energy to get through the day
It's a great way to sneak some goodness and protein into anyone whose diet is lacking
Great for long, busy days, it's easy to eat while you're on the go
Perfect for people who sometimes skip meals too
Enjoy half for a pre-workout boost and the other half for the post workout recovery

Just about everyone will benefit from the Supreme. It's a hearty snack with a nutty flavour but it contains no nuts. It will keep you feeling satisfied for hours.
The unique flavour of this cookie comes from the sunflower seeds, pepitas, ground flax seed and the Vanilla Ice Cream and Chocolate Love Magnum Quattro protein powder. The ground flax seed contains essential fatty acids that help with protein absorption and assimilation.
Pepitas are protein rich, shelled pumpkin seeds that help to create the nutty flavour. The ground flax seed adds Omega-3 essential fatty acids as well as both soluble and insoluble fiber. The cottage cheese is a slow digesting protein that helps to keep you feeling full for longer. I use the delicious Magnum Quattro protein powder which also helps to suppress appetite among many other benefits.
The Supreme is so good you won't even believe it's a protein cookie. Guaranteed.

---
If you own a cafe, store, gym, fitness center or any other type of business and would like to carry these products, please contact me directly to order as I have wholesale pricing for retailers.
I invite you to leave your feedback about these products below and send all inquiries to me using the contact page.