The Supreme protein cookie was developed to be a protein rich, energy boosting snack that's reminiscent of the delicious cookies Mom used to make.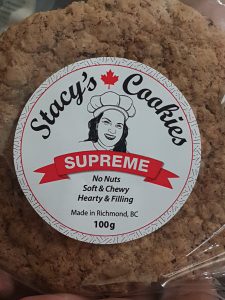 The Supreme is soft, chewy, decadent and packed full of a variety of ingredients that all work together to create a unique flavour. The ingredients are familiar and easy to pronounce.
This large 100g, hunger crushing cookie makes a great snack anytime of day.
It's perfect for busy afternoons, a missed lunch, or for an after school snack and it's delicious for breakfast too.
Enjoy a Supreme before the game, it won't make you too full. Take one on a hike or a ride in the backpack.It makes a great backpack snack for campers too. 
It's also a great way to sneak some goodness and protein into anyone who doesn't exactly eat healthily.
Great for busy days
Perfect for people who sometimes skip meals
Enjoy half a cookie pre workout and half a cookie post workout
Makes an easy to carry snack anywhere
Just about everyone will benefit from the Supreme. The Supreme is a hearty snack with a nutty flavour twist. It will keep you feeling content for hours and with energy too.
The unique flavour of this cookie comes from the sunflower seeds, pepitas, ground flax seed and the Magnum Quattro protein powder. The ground flax seed contains essential fatty acids that help with protein absorption and assimilation.
Pepitas are protein rich, pumpkin seeds. The ground flax seed adds Omega-3 essential fatty acids as well as both soluble and insoluble fiber.The cottage cheese is a slow digesting protein that helps to keep you feeling full.
The Supreme is made with other protein rich ingredients as well, including oats, eggs and  cottage cheese. 
Magnum Quattro is a high quality, pharmaceutical grade, fast digesting protein powder. It's time released and great to have any time of day. It's delicious in shakes and even better in the  Supreme.
The Supreme is so delicious you won't even believe it's a protein cookie!