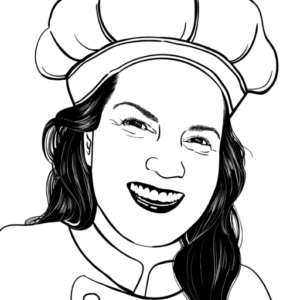 These cookies are hearty homestyle protein cookies made with natural ingredients and packed with protein. They're filled with lots of other nutritious ingredients that fuel you up for the day and keep you going for hours. They're decadent, delicious and are reminiscent of the soft and chewy oatmeal cookies Mom used to make.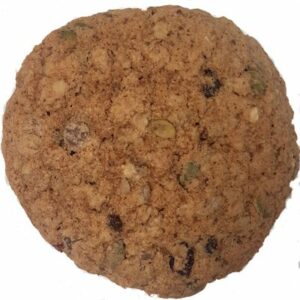 Stacy's Cookies began in 2015 with a single protein cookie called the Supreme. It slowly grew from there and now has three different protein products and many other snack cookies and coffee cakes. 
The protein cookies have been designed as a delicious meal replacement with a substantial amount of protein and nutritious ingredients with many essential nutrients that your body needs. Each one is packed with protein rich ingredients specifically chosen to create great flavour and texture while not really tasting like a protein product at all. These cookies are a good size that can easily be split into two servings. They are dense in nutrients and are made with simple, common ingredients while still tasting great.
The Supreme has a trail mix type of feel and appearance, it has 14g of protein and contains no nuts. It's soft and chewy and hardly looks like a protein cookie at all. It's an oatmeal chocolate chip base with added sunflower seeds, pepitas and dried cranberries.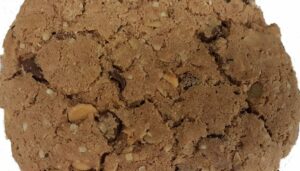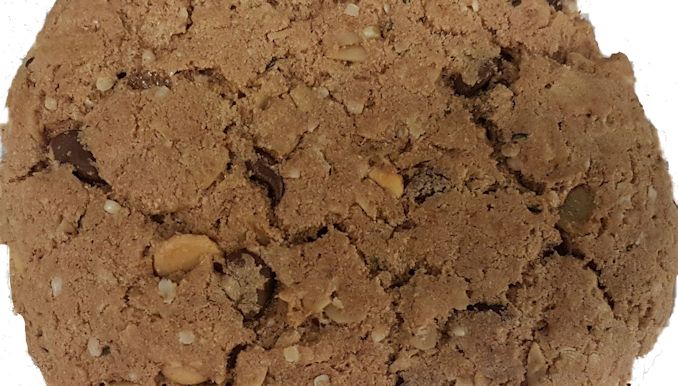 The Obsession is a big handful of chocolatey, peanut buttery love that has a hefty 23g of protein. It's made with raw shelled hemp seeds, natural peanut butter, peanut butter powder, organic cane sugar and incorporates whole wheat flour.

The Chocachewy bar is a smaller chocolate chewy bar made with crunchy peanut butter, sunflower seeds, pepitas, chia seeds, honey and oats. It has 15g of protein. Pre-order only.
A Seedy Affair  is a seed prominent granola bar packed with sunflower seeds, pepitas, chia seeds, dark chocolate chips, dried cranberries, toasted oatmeal and is sweetened with honey, vanilla and a touch of brown sugar. The Seedy Affair bar has 10g of protein.
My product line includes these protein products as well as several different snack cookies and coffee cakes. Please see the Homestyle Baked Goods page for more information on all of the products not shown here.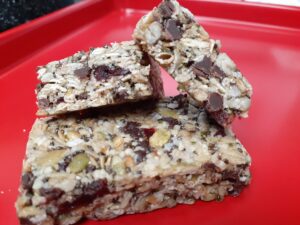 I use common familiar ingredients to make each recipe. All of my recipes are created myself, they are unique and not directly copied from any book, magazine or website. Some of my recipes have evolved over 30 years or more. Each one is a painfully intricate balance of carefully chosen ingredients that I've used to achieve the unique flavour and texture in all of my products. I combine that with my somewhat unconventional baking methods to create these products for you.
I guarantee these homestyle protein cookies and snacks are unlike anything you've had before. They're a meal in themselves and deliciously decadent. I look forward to supplying some deliciousness into your life! Contact me directly to order or use the contact form below.