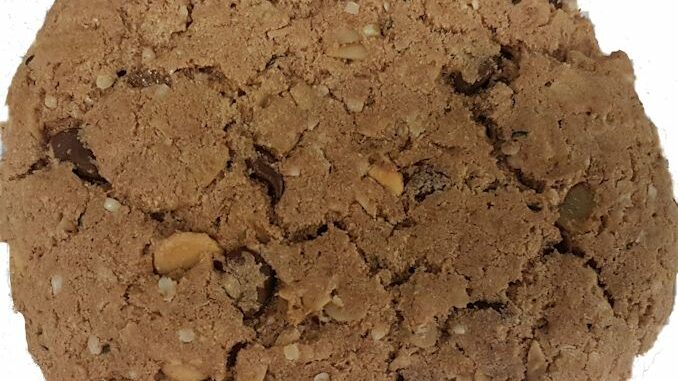 The Peanut Butter Chocolate Obsession cookie is a peanut buttery, chocolatey, protein packed, meal replacement cookie.
It has a whopping 23g of protein! The Obsession cookie weighs in at a generous 120g.
It's texture is close to that of a brownie, I know you won't be disappointed! This cookie can be easily be treated like a meal replacement, it'll carry you through a good part of the day, it's usually about 6 to 8 hours that you can count on not being hungry.
Approximately half of the protein in this cookie comes from the natural food ingredients, the nutty and delicious raw shelled hemp seeds, powdered peanut butter, natural peanut butter and cottage cheese all significantly contribute to the amount of protein in it.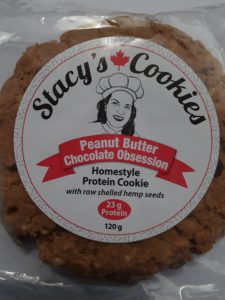 The other half of the protein comes from the delicious Magnum Quattro protein powder which has slow digesting proteins among other ingredients to help keep you feeling full for longer. 
I use a different combination of the Chocolate Love, Soft Serve Vanilla Ice Cream and the Peanut Butter Addiction flavours in each of the recipes. This cookie uses only natural peanut butter and real creamery butter, there is no shortening or margarine used at all.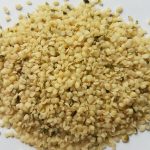 I didn't skimp out on the dark chocolate chips and peanut butter chips either, which both help to achieve it's great taste. It's a big beefy cookie and will not disappoint the taste buds.
The cookies have no refined white sugar, I incorporated only organic cane sugar and dark brown sugar, changing the sugar in this version has reduced the general sweetness of the cookie compared to the Supreme.
Some of the feedback so far has been:
"They're evil!"
"They actually taste good!"
"Cannot be compared to other protein snacks"
---
Ingredients: Oats, sugar (dark brown and organic cane), Magnum Quattro 4-stage matrix protein powder (natural and artificial flavours, sodium chloride, organic cane sugar, xanthan, organic flax seed, sucralose, bromelain), butter, natural peanut butter, whole wheat flour, peanut butter chips, eggs, dark chocolate chips, raw shelled hemp seed, sunflower oil, milk, cottage cheese, peanut butter powder, cocoa powder, baking soda and Himalayan pink salt
Nutrition: Calories 544 | Fat 30g | Sat. Fat 13g | Cholesterol 71mg | Sodium 282g | Carbs 48g | Fiber 8g | Sugars 28g | Calcium 89mg | Iron 2mg
---
If you own a cafe, store, gym, fitness center, vending machine company or any other type of business and would like to carry these products, please contact me directly to set this up as I have wholesale pricing for retailers.

Please leave your feedback below and submit email inquiries using the contact page.
See Menu & Order