Chocolate Peanut Butter Obsession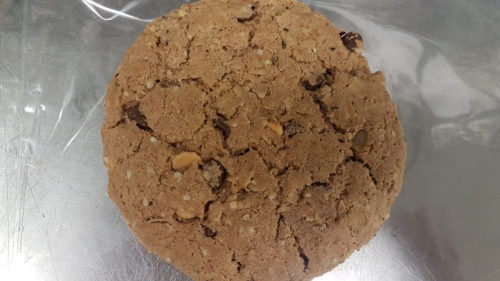 I've finally finished a new variety of cookie for all of those people who love peanut butter and chocolate together!
I'm soon to officially release a chocolate chip peanut butter protein cookie that's chewy, decadent and delicious. This cookie incorporates raw shelled hemp seeds, peanut butter powder, natural peanut butter and chocolate chips to achieve it's taste. It's a big beefy cookie and will not disappoint the taste buds.
I chose to include the hemp seeds in the recipe for their creamy texture, nutty flavour and high protein content. I use Magnum Quattro protein powder to boost the protein content in them.
The cookies have no refined white sugar and incorporate only organic cane sugar and dark brown sugar. Changing the sugar in this version has reduced the general sweetness of the cookie compared to the Supreme.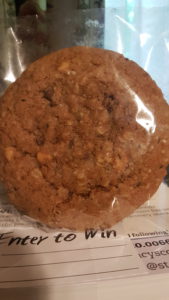 Some of the feedback so far has been:

"They're evil!"
"They actually taste good!"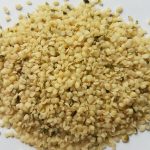 The consensus among many of the attendees at Popeye's Fall Classic is that this cookie is a winner! Thank you all for your amazing feedback!
The price per cookie will be $4.00 once it's officially launched.
I've just received the lab results back and it is definitely a single serving meal with energy and slow digesting proteins to help keep you feeling full for hours.
The fat numbers come mostly from the natural peanut butter and creamery butter. There is no shortening or margarine used at all. The sugar numbers come mostly from the chocolate chips and peanut butter chips.
This cookie has 23g of protein!
It will be available to buy and ship after the labels are created in about 2 weeks.
Volume Purchases
I give a discount for volume personal use purchases, the two options are:
I have boxes of 20 that are $70 ($3.50 per cookie).
I have boxes of 36 that are $126 (also $3.50 per cookie).
The boxes of 20 are available for shipping by Canada Post (within Canada)
for a delivery fee of $20. (Total: $90)
The cases of 36 are available for shipping by Canada Post (within Canada)
for a delivery fee of $25. (Total: $151)
They usually arrive within 3 business days.
If you own a cafe, store, gym, fitness center or other business that would like to carry these products, please send me a message. There's different pricing for retailers.

Contact me to order a box for yourself or head over to the order page and let me know what products you would like.
Thanks!