Chocachewy Peanut Butter Protein Bar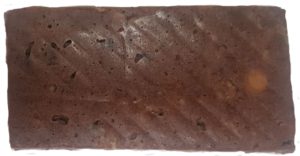 The Chocachewy bar is officially launched by Stacy's Cookies. It's yummy and chewy and chocolaty and peanut buttery and it contains 15g of protein! They're the perfect size to throw in your pocket on the way to the gym.
This protein bar contains crunchy and delicious pepitas and sunflower seeds. I added sweet flaked coconut, raw shelled hemp seeds and BioX Nutri-Nut Powdered Peanut Butter Powder. This product also incorporates the delicious "Chocolate Love" and "Soft Serve Vanilla Ice Cream" flavours of Magnum Quattro protein powder. 
It has no refined sugar and contains only liquid honey as the sweetening ingredient and natural peanut butter to glue it all together.
I can tell you that it's getting great feedback already among those who have tried it. You won't be disappointed, I'm sure of it.
The Chocachewy bar is "gluten friendly". It has no gluten containing ingredients but it's made in a kitchen that contains flour and isn't certified gluten free. Use your own discretion with this product if you have a severe allergy.
I'm happy to announce that their labeling is now complete and I'm able to ship these out to any address in Canada.
---
If you own a cafe, store, gym, fitness center or any other type of business and would like to carry these products, please contact me directly as I have wholesale pricing for retailers.
I invite you to leave your feedback about these products below and send all inquiries to me using the contact page.